Geschreven door Jessica Santiago Lopez op 2013-12-20 17:15:32
Album Reviews :: Scar The martyr – Scar The Martyr
Band: Scar The martyr – Scar The Martyr
Label: Roadrunner Records
Release: OUT NOW!
Review geschreven door Nikky Sriamin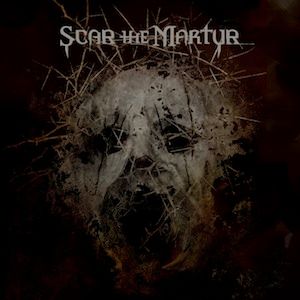 Line-up:
Joey Jordison – drums, percussion, rythm guitars, bass
Henry Derek – lead vocals
Jed Simon – lead guitars
Kris Norris – lead guitars
Chris Vrenna – keyboards
Het album:
Supergroepen. Het is altijd afwachten wat een groep met bekende muzikanten produceert. Joey Jordison (u weet wel, de drummer van Slipknot), besloot om daar eens een poging in te doen. Hij koos voor ex-Strapping Young Lad gitarist Jed Simon, ex-Darkest Hour gitarist Kris Norris, ex-Nine Inch Nails drummer Chris Vrenna (als toetsenist) en de nog onbekende zanger Henry Derek. De muziek schreef hij grotendeels zelf en opnames werden in het eerste deel van 2013 gedaan. Wat is het resultaat? Een lange plaat. Vooral dat. De standaard-editie duurt al 74 minuten, mijn versie (met alle mogelijke bonustracks en b-kantjes) duurt net geen 2 uur. De nummers zijn degelijk, maar hadden bijna allemaal 2 minuten korter kunnen zijn. De kwaliteit van de muzikanten staat buiten kijf. Het drumwerk is van heel hoog niveau, maar ik had ook niet anders verwacht van Joey Jordison. Met Hendry Derek heeft hij een goede zanger, die zowel clean als gruntend prima klinkt, in huis gehaald.
Op het vlak van de composities stelt de band echter teleur. De meeste nummers hebben dezelfde vibe en, mede omdat het album zo lang is, beginnen op een gegeven moment erg op elkaar te lijken.
Conclusie:
Als Scar The Martyr een nieuwe, jonge band was geweest, dan was dit een heel goed debuut-album geweest. Helaas zijn (bijna) alle bandleden al heel erg doorgewinterd, waardoor het eigenlijk een heel gemiddeld album is geworden. Misschien komt dit ook wel omdat Joey alles zelf geschreven heeft. Want eigenlijk klinkt Scar The Martyr op hun debuutalbum als Slipknot met een andere zanger.
Tracklist:
01. Intro
02. Dark Ages
03. My Retribution
04. Soul Disintegration
05. Cruel Ocean
06. Blood Host
07. Sign of the Omeneye
08. Anatomy of Erinyes
09. Prayer For Prey
10. White Nights in a Day Room
11. Effigy Unborn
12. Never Forgive Never Forget
13. Mind's Eye
14. Last Night On Earth
15. Flatline & Fracture
16. Digging For Truth
17. Coat of Arms
18. Complications
19. Follow The Storm
20. Symphony of the Shameless
21. After the Fall
22. Trinity of Lies
Links: