Geschreven door Jessica Santiago Lopez op 2013-12-20 16:56:16
Album Reviews :: Red Fang – Whales and Leeches
Band: Red Fang – Whales and Leeches
Label: Relapse Records
Release: OUT NOW!
Review geschreven door Nikky Sriamin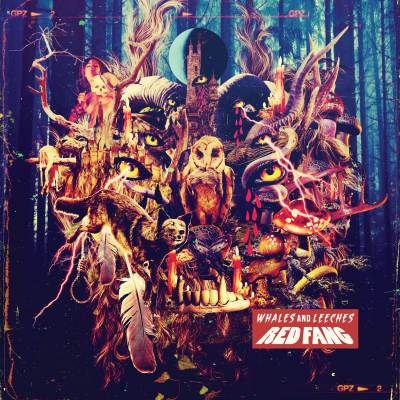 Line-up:
Bryan Giles – guitar, vocals
Aaron Beam – bass guitar, vocals
David Sullivan – guitar
John Sherman – drums
Het album:
Red Fang debuteerde in 2009 met een hilarische videoclip voor "Prehistoric Dog" (zoek hem eens op, hij is schitterend) en is 4 jaar later alweer toe aan het derde album. 'Whales and Leeches' is geproduceerd door Chris Funk, bekend van de band The Decemberists.
De productie is helder, maar mist wel een beetje de rauwheid die de vorige twee full lengths hadden. De zang is ook wat minder rauw geworden, waardoor de stoner rock feel wat is afgenomen. Het geheel klinkt nu meer als jaren '70 heavy metal. De combinatie van zangstijlen die Bryan Giles en Aaron Beam gebruiken, klinkt erg lekker met elkaar. Het overige muzikale werk zit op zich prima in elkaar, maar mij bekruipt toch het gevoel van herkenbaarheid. De nummers klinken namelijk niet heel anders dan de vorige albums van Red Fang. Eén van de opvallendere nummers is dan wel "Dawn Rising", waar een vocale gastbijdrage wordt gedaan door Mike Scheidt van YOB. Scheidt's stem is zeer uniek te noemen en past uitstekend bij de sfeer van het nummer.
Conclusie:
Voor mensen die nog onbekend zijn met Red Fang en fan zijn van het stoner/70's metal-genre, is dit een prima album om mee te beginnen. Voor de wat meer doorgewinterde fans is er weinig nieuws aan de zon. Prima album, maar hopelijk is er op de volgende langspeler wat meer groei te horen.
Tracklist:
1. DOEN
2. Blood Like Cream
3. No Hope
4. Crows in Swine
5. Voices of the Dead
6. Behind the Light
7. Dawn Rising
8. Failure
9. 1516
10. This Animal
11. Every Little Twist
Links: